our service
virtual meeting & Event production
Seeking a produced meeting or event experience that goes beyond Zoom? With our TeamStream platform and in-house production experience we have multiple ways to support and enhance your online event. Let us show you how we can bring together the people, technology, design elements, and remote production services that will help make your next event truly engaging and memorable.
Explore the options below to learn more about our capabilities and enhancements.
Remote Speaker Connectivity
TeamStream, featuring vMix, allows for speakers and presenters to be produced in full HD video while integrating with standard meeting platforms. Our system allows for two-way, behind-the-scenes, communication between the production team, the technical team, and all presenters and panelists for a fully coordinated remote production.

Resource: On-Camera Instructions
Safe and Reliable Streaming & Connectivity
The infrastructure for our productions adheres to broadcast backhaul standards, typically fiber, to ensure the primary path to any livestreaming platform or CDN is reliable. Our livestreaming control rooms are flexible to scale up and down to meet the demands of our client's virtual or hybrid production.

(Encode supports H.264, H.265, RTMP, SRT, HLS)
Creative Content Add-Ons
Our team of in-house creatives can help you design, produce, and edit a variety of pre-produced content to add to your event or promotional materials.
Promotional Videos
Social Media Content
Highlight Videos
Studio or On-Location Shoots
IN-MEETING GRAPHICS
Searching for a way to enhance the visual experience of your event? We can provide video and audio playback, intro and hold music, custom graphics and backgrounds, green screen, lower-third titling, video compositing and live chat content from Twitter, Facebook, or any IRC chatroom.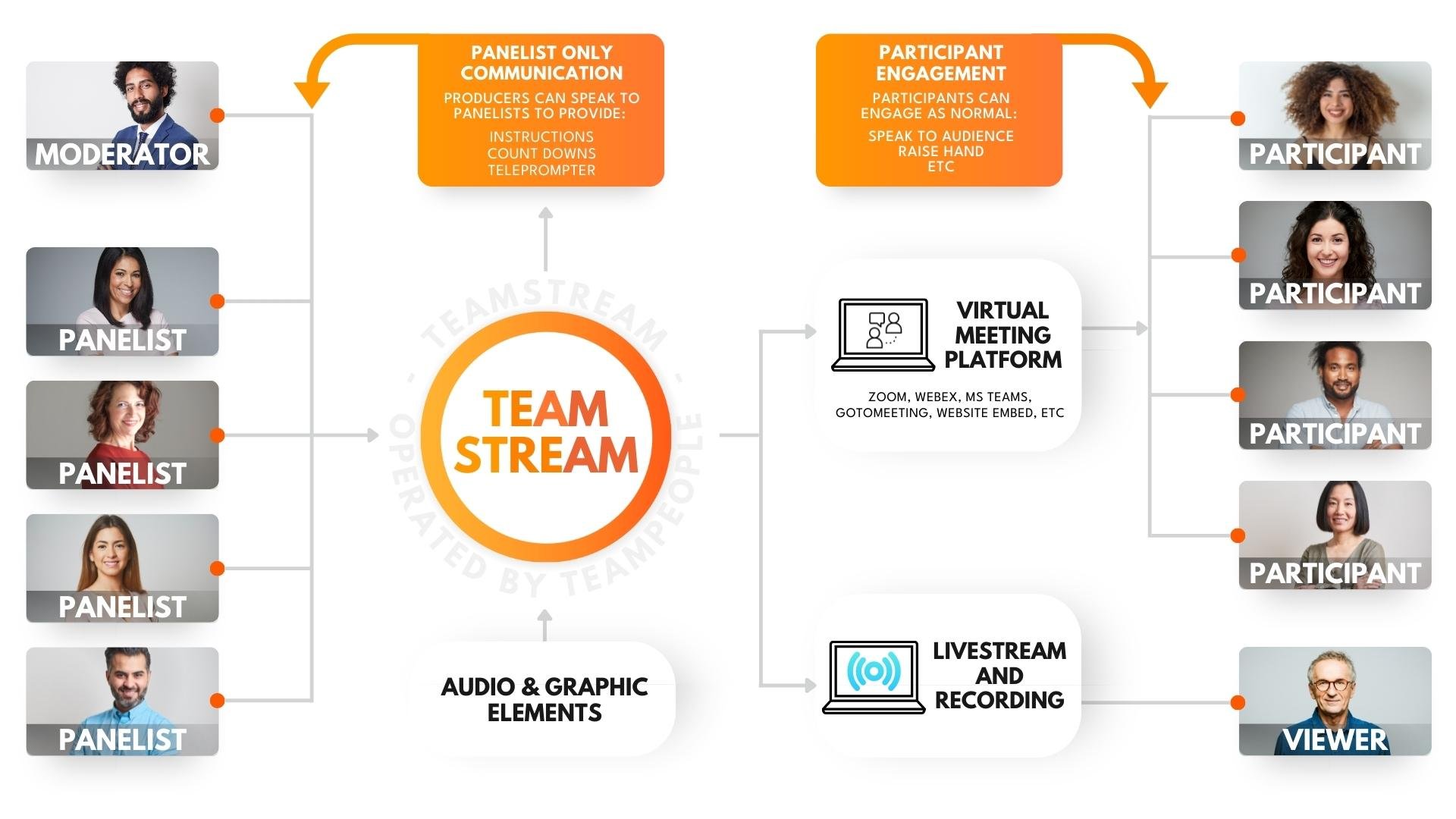 FREQUENTLY ASKED QUESTIONS
What hours do you operate? Do you support meetings that originate outside the US or meetings with global participants?

Our standard operating hours are 7am to 7pm EST. Night and weekend hours (including for internationally originating meetings) incur a premium charge to be quoted per scheduled meeting date/time. Cancellation Policy: Requests must be cancelled no fewer than 2 business days before the scheduled placement or the client will be charged 100% of the projected cost that falls within those 2 days.

Do you also support Google Meet/Hangouts, GoToMeeting, BlueJeans, Join.Me, Skype, etc?

Yes, we support the above platforms. In addition, we support H.264, H.265, RTMP, SRT, and HLS encoding.

Do you use your own platform licenses or the client's licenses?

We can utilize our own license or a client license. If utilizing a client license, we will require admin access in some instances to ensure platform settings are set appropriately

How do you work with unique IT environments?

We have flexibility to work within unique IT environments and provide stable security for your event. Working directly with your IT team, we'll customize a solution that fits your needs.

Can we offer a virtual green room for VIP guests?

Absolutely. Our team can create a virtual green room space for your VIP guests and panelists to connect prior to the event start. This is a great opportunity for them to meet each other as well as familiarize themselves with the setup and ask any questions to our technical team.

Can I talk to my speakers and the tech team during the event?

We leverage real time communication applications like Clearcom and Unity to create IFB channels for speakers and party lines for your team and the control room.

Do you have a green screen studio?

Yes, a green screen setup can be made available to speakers at a location of your choosing, including international locations. If your speaker prefers to setup on their own without the help of a professional crew, a Broadcastpod can be provided through our sister company, DreamTek, and shipped to your speakers' location.

Can you stream to my Facebook or LinkedIn Page?

Leveraging AWS, we can stream to any of your Social media platforms (Facebook, Linkedin, Twitter, YouTube, etc.) or even embed a livestream on your own website.

HOW DO I GET A QUOTE FOR MY EVENT? DO I NEED TO OPEN A PO?

Book a consultation through our website! Our in-house producers will meet with you to discuss your event and help you determine your scope of work. Following the consultation, a quote will be generated, and a dedicated producer can be attached to guide you through a successful event. We accept Credit Card, PO, and Direct Debit. If you have another preferred payment method, please let us know and we'll work with our accounting teams to find the best solution.

How can speakers prepare for an event?

We encourage all speakers to review the On-Camera Instructions one-sheet prior to your event or rehearsal. Our team can also be available to conduct pre-meeting check-ins with speakers or hosts to review best practices.
Ready to take the next step?
REQUEST A CONSULTATION